Allergy Track

NIESANFÄLLE? VERSTOPFTE NASE? TRÄNENDE AUGEN? ATMUNGSSCHWIERIGKEITEN? ZEICHNEN SIE ALLE IHRE ALLERGIESYMPTOME AUF.
Allergy Track ist eine mobile APP zur Kontrolle und zur Messung der Beschwerden bei allergischen Erkrankungen.
Sie können:
die allergischen Episoden erfassen um den Schweregrad und die Häufigkeit Ihrer Symptome zu bearbeiten.
die Auswirkungen Ihrer Allergie bewerten und festhalten, inwiefern Ihre Lebensqualität und Ihre Leistungsfähigkeit beeinträchtigt werden.
in Ihrem Tagebuch die Entwicklung Ihrer Allergie notieren. Dies kann sehr hilfreich sein, wenn Sie mit Ihrem Arzt darüber sprechen.
Sie finden Tipps und Tricks rund um Allergene, die Atemwegserkrankungen hervorrufen, um diese so gut wie möglich zu vermeiden. So können Sie besser mit Ihren Symptomen umgehen. Allergy Track schickt Ihnen einen Warnhinweis, wenn die Allergiesaison beginnt.
Allergy Track können Sie im App Store und auf Google Play herunterladen.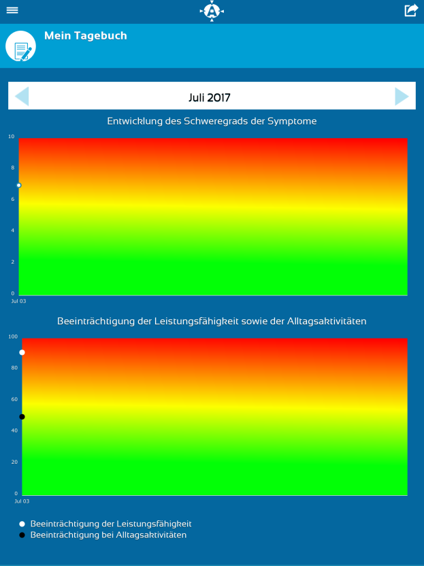 Websites :Allergy Track wurde gemeinsam von STALLERGENES GREER und dem EFA zu einem nicht kommerziellen Zweck entwickelt. Das EFA (European Federation of Allergy and Airways Diseases Patients' Associations) ist ein europäischer Dachverband von Patientenorganisationen, die in den Bereichen Allergie, Asthma und Atemwegserkrankungen spezialisiert sind.
www.allergie-frei-leben.at
www.allergenvermeidung.org
www.lungenunion.at
www.pollenwarndienst.at
| | | |
| --- | --- | --- |
| | Appstore | Google Play |