Diagnostiek
De allergoloog stelt een allergologisch bilan op, bepaalt het (de) allerge(e)nen dat (die) de allergie veroorza(a)k(t)(en) en de ernst van de allergie om de patiënt de meest geschikte behandeling te kunnen voorschrijven.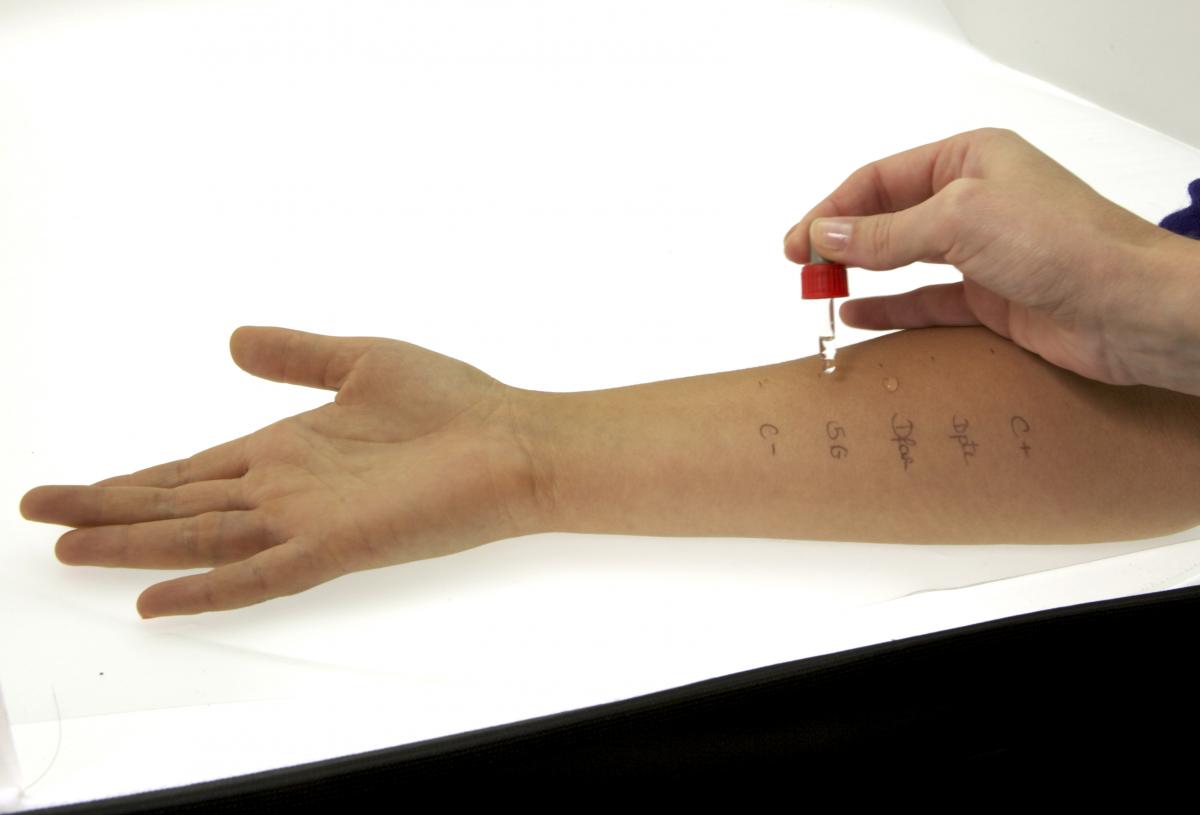 De allergoloog zal precieze vragen stellen over de symptomen, de omstandigheden waarin ze opduiken, de snelheid waarmee ze verschijnen, de persoonlijke en familiale allergische voorgeschiedenis het leefmilieu en de levensstijl van de patiënt.
Op basis van die bevraging en een algemeen klinisch onderzoek zal de allergoloog vervolgens aan de hand van huidtest onmiddellijk het (de) betreffende allerge(e)n(en) kunnen identificeren. Een huidtest bestaat erin om een druppel extract van een allergeen onder de huid te laten doordringen.
De arts zal tijdens de consultatie verschillende allergenen testen waarvan hij of zij vermoedt dat ze de oorzaak van de allergie kunnen zijn. Het resultaat van de test kan na 20 minuten afgelezen worden: een overgevoelige reactie zal de huid rood laten kleuren en een lichte zwelling en jeuk veroorzaken Dit is een snelle en pijnloze techniek.
Als de resultaten van de huidtest geen eenduidige of coherente interpretatie toelaten, kan de allergoloog zijn toevlucht nemen tot een bloedtest ("onderzoek naar specifieke immunoglobulinen") Deze techniek zal het bewuste allergeen met zekerheid bepalen.1
Als de patiënt een moeilijke of fluitende ademhaling heeft, kan de arts overgaan tot een "functioneel ademhalingsonderzoek" om een allergisch astma te diagnosticeren.
[1] Meltzer EO, Gross GN, Katial R, Storms WW. Allergic rhinitis substantially impacts patient quality of life: findings from the Nasal Allergy Survey Assessing Limitations. J Fam Pract. 2012;61:S5-10.