2022 Company Report

Chairman's message
Stefan Meister Chairman of the Board of Directors
"By building on existing momentum, focusing on high quality operations and investing for the long-term, we will continue to deliver innovative treatments for patients across the globe while creating sustainable value for the Group's stakeholders."
Read more...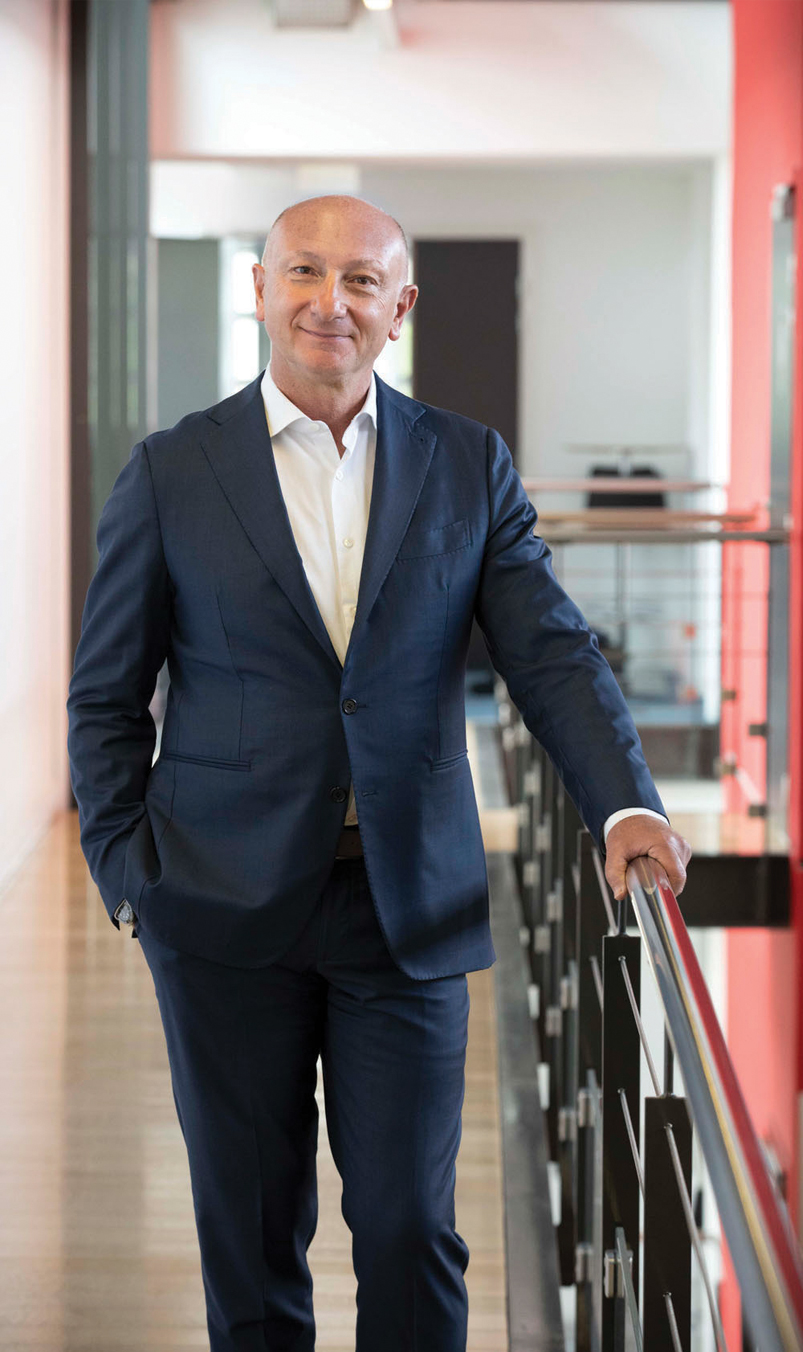 Interview with our CEO
Michele Antonelli Chief Executive Officer
"By leveraging the full potential of precision medicine, we aim to provide better care and value, and maximise the treatment outcome for each patient while reducing overall costs for healthcare systems."
Read more...

Chairman's message
Stefan Meister Chairman of the Board of Directors
The past year, marked by an unstable geopolitical situation, resurgent inflation, and the continued economic impact of the pandemic, brought its many challenges. Despite these conditions, Stallergenes Greer posted solid performance in 2022 and stayed true to its mission of delivering high-quality treatments to improve the quality of life of patients with allergies.
Throughout the year, Stallergenes Greer continued to rigorously execute on its strategy, strengthen its financial profile, and boost its operational resiliency while gaining market share in many territories. The Group also made progress on its move towards a leaner organisation, while increasing its focus on innovation and corporate responsibility.
As the pace of change continues to accelerate, Stallergenes Greer's robust fundamentals combined with the support of its sole shareholder, B-FLEXION, are unique assets for the future. They further enhance the Group's ability to explore new frontiers in allergen immunotherapy and discover and develop novel treatments for patients.
Stallergenes Greer's people play a key role in the Group's success. On behalf of the Board of Directors, I would like to take this opportunity to recognise their engagement and contribution to the Group's achievements throughout the year, and to thank Michele Antonelli for his continued executive leadership of all our people.
Stallergenes Greer has set out a clear path towards fulfilling its ambition of becoming the world's leading allergen immunotherapy company. By building on existing momentum, focusing on high quality operations and investing for the long-term, we will continue to deliver innovative treatments for patients across the globe while creating sustainable value for the Group's stakeholders.
Sincerely
Stefan Meister
Interview with our CEO
Michele Antonelli Chief Executive Officer
How would you summarise 2022 and what were Stallergenes Greer's greatest challenges and achievements?
2022 was a challenging year both for our industry and for society as a whole. Among the challenges we had to face the most significant were patients slowly returning to see their allergist in the wake of the pandemic, and, with physicians being called back to hospitals, a decreased availability in private practices. Furthermore, waiting lists to consult specialist doctors are long which may discourage some patients. And, in allergology we are also witnessing an imbalance between the number of physicians retiring and new ones joining the field. At the same time, the number of people with allergies in need of treatment is increasing steadily.
The current geopolitical situation, which has given rise to global uncertainty and increasing energy prices, but also to logistical issues and supply shortages, was, and continues to be, a source of concern for us all.
The breakdown of the ecosystem of work, home and well-being has also given rise to other challenges. With people becoming more mobile, looking for new roles, higher compensation and benefits, and more flexible work schedules, we are all competing for talent. As a company, we must continue to make every effort to remain attractive, ethical, patientfocused, and a responsible corporate citizen.
Despite these challenges, we pursued our efforts with determination and delivered double-digit growth in 2022, in line with our objectives. We launched our house dust mite allergy tablet in nine European countries and initiated several strategic projects which will contribute to our future growth. We are also reaping the benefits, in terms of quality, security and efficiency, of sustained investments in our industrial assets.
What are the key factors which fuelled this growth?
Several factors contributed to our performance in 2022: our people, the successful ongoing transformation of our organisation, product quality and security, and our ability to innovate.
In 2022, we intensified our efforts regarding the development of our people. To ensure our employees are geared to tackle present and future challenges, we focused training on talent development and performance, and the strengthening of management and leadership skills. We are also embedding a lean culture throughout the Group with Six Sigma training. Over the past years, Stallergenes Greer has moved from a traditional organisation to one that is project based. Our lean and agile mindset contributes to creating value for our stakeholders.
The quality of our products and our drive to innovate are key factors of our performance. We continually invest in technologies, equipment, and skills to increase quality and compliance. Product quality is an ongoing journey, a journey in which each employee is fully engaged. Our ability to innovate and partner with the right organisations will also support us in facing future challenges. With iPUMP for instance, our connected system for SLIT treatment developed with a partner, we are taking drug delivery modes one step further for the benefit of patients.
What are the benefits of precision medicine for patients, physicians and healthcare systems?
I believe that our advancements in precision medicine are one of the main results of this year. At Stallergenes Greer, we are continuously asking ourselves how we can provide a patient with the treatment which is best adapted to his or her condition, needs and profile.
We offer products that are supported by a wealth of data documenting their effectiveness. Our five real-world evidence studies, which analyse data from more than 100,000 exposed patients, are a true asset. They help us examine subsets of patients on a larger scale and guide us toward more precise treatment options from a genetic point of view. Whether we are researching new molecular entities, food allergies or novel delivery modes, we seek therapeutic solutions which are tailored to each individual. By leveraging the full potential of precision medicine, we aim to provide better care and value, and maximise the treatment outcome for each patient while reducing overall costs for healthcare systems.
2022 also marked the redefinition of Stallergenes Greer's corporate responsibility programme. Can you tell us more?
As a good corporate citizen, we have a duty to act responsibly, to innovate for patients and society, to foster a safe, diverse, dynamic and inclusive workplace, and to do our part to protect natural resources.
Over the past months, we formalised our corporate responsibility priorities in a programme called Care Beyond Allergy. Our approach to corporate responsibility aims to better serve patients, physicians, colleagues, and partners, while enhancing our success as a business. Care Beyond Allergy encompasses four key pillars which emphasise our responsibility and focuses on areas in which we can make a difference: society, environment, social and governance.
We are at the beginning of our journey and each one of us has a part to play in making a positive contribution to society as a whole and to the planet.
What makes you optimistic when you look to the future?
There remains much uncertainty in the world, however, our performance is the demonstration that we can succeed by remaining committed to our purpose of enabling precision medicine to improve life for people with allergies and continuing to make confident decisions.
I am optimistic about the future because I know we have the right people to stay the course and deliver on our long-term strategy. We have the know-how, skills, and the commitment to discover and develop novel technologies. We are making strides in advancing precision medicine for the benefit of people with allergies.
The support of our shareholder, combined with our solid financials, provide us with the means to accelerate our growth and achieve our ambition.
Our efforts are recognised by patients and healthcare professionals who benefit from our allergen immunotherapy solutions and our commitment to discover and develop novel treatments in the field of allergies.