Allergy immunotherapy
Allergy immunotherapy (AIT) is an allergy treatment that treats the underlying cause of allergy, and may provide both quick – within a few weeks – and long-lasting improvement of all symptoms.
Allergy Immunotherapy is an allergy treatment with a long-lasting effect on all symptoms[1]. After an accurate diagnosis of the type of respiratory allergy and responsible allergen(s), patients receive a targeted treatment, available in sublingual form (tablets or drop) or in a subcutaneous form (injections).
Allergy Immunotherapy results in immunologic tolerance, which is denned as a relative decrease in antigen-specific responsiveness.
Allergen immunotherapy is defined as the repeated administration of specific allergens to patients for the purpose of providing protection against the allergic symptoms and inflammatory reactions associated with natural exposure to these allergens[2].
Although the exact mechanism or mechanisms responsible for its clinical efficacy are continually being elucidated, the immune system builds this resistance by changing the types and proportions of antibodies (immunoglobulins) and proteins (interleukins) it produces when it is exposed to the allergen[3]. This 'rebalanced' immune response ultimately reduces the symptoms when patients are exposed to the allergen in their environment – even after treatment stops. Adequately rebalancing your immune system with AIT usually requires 3 to 5 years (or seasons, in the case of pollen allergies) of treatment.
AIT is an allergy treatment that treats the underlying cause of allergy, and may provide both quick (within a few weeks) and long-lasting improvement of all symptoms[4]. This is in contrast to the usual symptomatic medications that are prescribed, such as antihistamines and corticosteroids, which only temporarily relieve some of the allergy symptoms.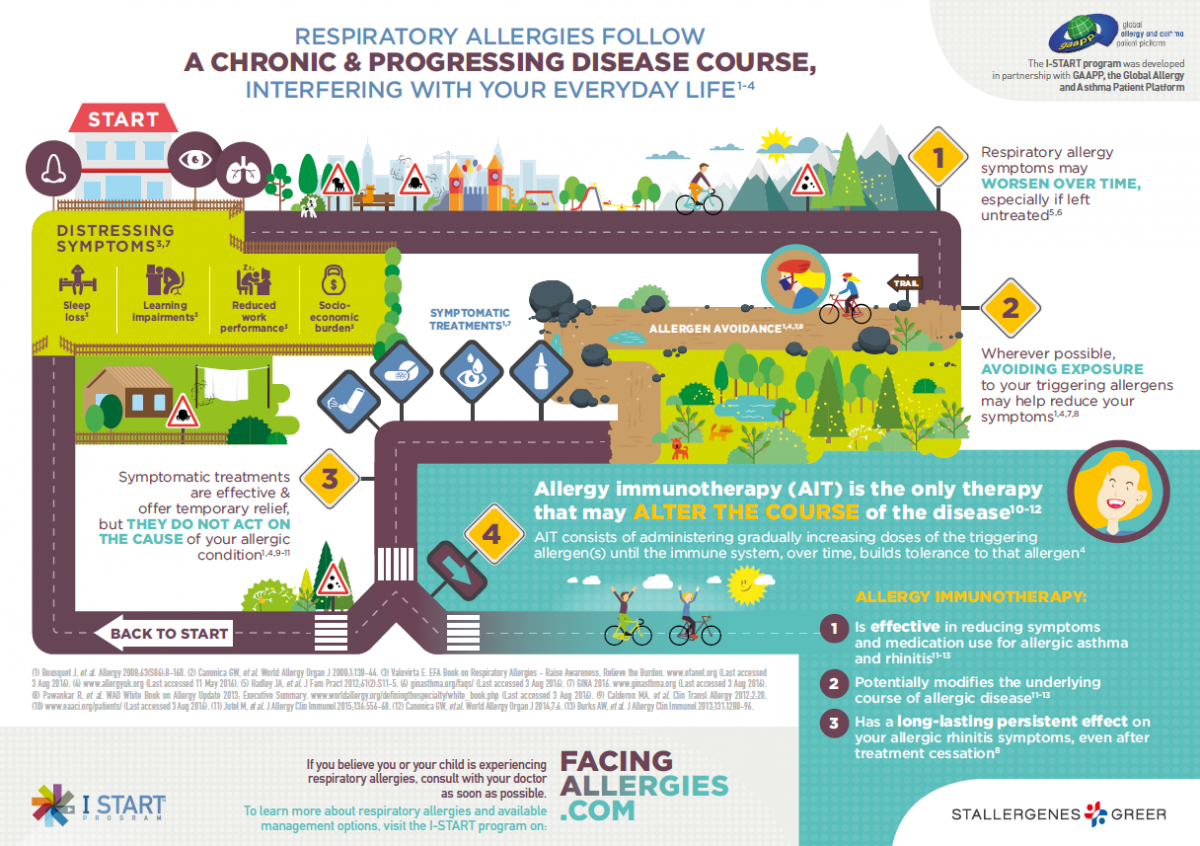 References:
1. Didier A. et al. optimal dose, efficacy, and safety of once-daily sublingual immunotherapy with a 5-grass pollen tablet for seasonal allergic rhinitis. Allergy Clin Immunol. 2007, 120: 1338-1345.
2. Allergen immunotherapy: A practice parameter third update, JACI January 2011. Volume 127, Issue 1, Supplement, pages S1-155, I: Cox and al.
3. Moingeon P, et al. Immune mechanisms of allergen-specific sublingual immunotherapy. Allergy 2006;61:151-65.
4. Bousquet J et al. Allergic Rhinitis and its Impact on Asthma (ARIA). Allergy 2008: 63 (Suppl. 86): 8–160. Didier A et al. Sustained 3-year efficacy of pre- and coseasonal 5-grass-pollen sublingual immunotherapy tablets in patients with grass pollen-induced rhinoconjunctivitis. J Allergy Clin Immunol. 2011;128:559-66. Durham SR et al. Long-term clinical efficacy in grass pollen-induced rhinoconjunctivitis after treatment with SQ-standardized grass allergy immunotherapy tablet. J Allergy Clin Immunol. 2010;125:131-8.