Stallergenes Greer at a glance
Stallergenes Greer at a glance
Stallergenes Greer is a fully integrated global biopharmaceutical company
Stallergenes Greer is a global healthcare company specialising in the diagnosis and treatment of allergies through the development and commercialisation of allergy immunotherapy (AIT) products and services.
Our purpose:
Enabling precision medicine to improve life for people with allergies
Our ambition:
Becoming the world's leading allergen immunotherapy company
- Realising the potential of precision medicine combined with personalised healthcare to improve the quality of life of people with allergies.
- Changing the course of allergic disease through the largest portfolio of best-in class AIT treatments.
- Being a trusted partner in allergy management and making a lasting and positive contribution to society.
- Nurturing scientific innovation and collaborating for long-term growth, creating value for our stakeholders.
The combination of Stallergenes SA and Greer Laboratories, Inc. has led to the creation of ONE Stallergenes Greer – a company with the largest finished AIT product manufacturing globally, an extensive global footprint and a product portfolio which offers solutions across the immunotherapy value chain.
Stallergenes Greer is a private company owned by interests associated with the Bertarelli family, which are advised by the Waypoint Capital Group. Waypoint is a business enterprise for the managers and advisers of the funds and investments associated with the Bertarelli family. The group is active in two areas: life sciences and asset management. Chaired by Ernesto Bertarelli, Waypoint is headquartered in Geneva, with offices in London, Jersey, Boston and Luxembourg.
2019 Company report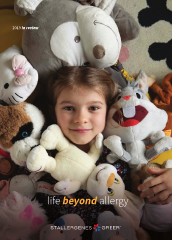 Click here to view 2019 Annual Report